VENICE THEATRE
In Venice throughout the eighteenth century there were more than 20 theatres. Among those that do not exist nowadays we can list the most famous as follows: Della Testa, Del Ridotto (recently closed and re-opened as a luxury hotel), S. Benedetto, Sant'Angelo, Grimani (mor than one theatre in Venice has been titled to this rich and noble family). The tradition of the theatre in Venice has ancient origins. But it was due to Carlo Goldoni (Venice 1707 - Paris 1793) and the Commedia dell'Arte with the masks of Colombina, Pantalone, Arlecchino (originary from Bergamo) that Venice's Theatre became well known worldwide. During the nineteenth century, with the success of lyric music, some theatres in Venice like La Fenice, Goldoni (ex S. Luca), Rossini (ex S. Benedetto), Malibran (ex S. Giovanni Grisostomo), became very popular with the shows of the most famous singers of that age.
---
Gran Teatro La Fenice (Opera House)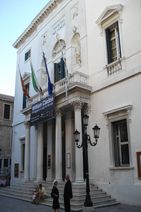 La Fenice Theatre is one of the most famous in the world and the most celebrated in Venice. The theatre is located in Campo S. Fantin, at only a five-minute walk from St. Mark's Square. It was open the 16th of May 1792. Like the Arab Phoenix, the legendary animal that represents its symbol, it was re-born from its ashes after two terrible fires that destroyed it completely in 1836 and 1996. In order to help you understand the importance of this Venice Opera House, Giuseppe Verdi, the ultimate Italian musician, has chosen La Fenice to perform for the first time 5 of its operas: Attila, Ernani, Rigoletto, Simon Boccanegra and La Traviata. La Fenice during the nineteenth century, has shown the performances of such masters of music like Cimarosa, Rossini, Bellini, Boito, Perosi, Wolf-Ferrari. During the twentieth century there have been the Venice performances of, among others, Stravinskij, Gershwin, Luigi Nono, the soprano Maria Callas, and the tenor Luciano Pavarotti.

A visit to La Fenice Theatre is a must, even for those people who spend little time in Venice. Inside you can admire various halls, among which the most celebrated are the "Sale Apollinee", and discover the secrets of this special place. Tickets to visit this Venice theatre are sold at the entry, and will be delivered even an audioguide in 5 languages (there are no reservations for individuals: 7 € each, reduced € 5). The group visits (minimum 10 people) can be booked instead at +39 041 2424. The hours of visits, lasting about 45 minutes, vary depending on the season or representations.

Website: Teatro La Fenice.

Call-center Hellovenezia: +39 041 2424.
---
Malibran Theatre
The Malibran Theatre (ex San Giovanni Grisostomo), was opened in 1678 by order of the Venice noble family Grimani. It was built in the same Venice area in which long ago existed the Polo's house, a family who had among its famous men Marco (the celebrated traveller getting to China from Venice, author of the book "Il Milione" and his uncle Nicolò. This Venice theatre owes its actual name by the famous soprano Maria Felicita Garcia Malibran who had successful performances there during the Venice Carnival of 1835. After years of good and bad luck, the theatre has been used (with the Palafenice, located in Tronchetto island near Venice) to substitute the La Fenice Opera House during the period of inactivity due to the last fire.
Call-center Hellovenezia: +39 041 2424.
---
Goldoni Theatre
The Goldoni Theatre (ex S. Luca, then Apollo), was built by the Grimani family in the middle of the eighteenth century and shown the best performances of Carlo Goldoni, during his time the most important playwriter in both Venice and Italy. The theatre is located in Calle della Commedia at only a one-minute walk from vaporetto stop and a two-minute walk from the Rialto Bridge. After WWII the theatre was closed because of the lack of money necessary to restore it. At the end of the 80's the theatre opened again, getting good audiences with the "Stagioni di Prosa" among which performances there are always the most famous comedies of Carlo Goldoni.
Website: Teatro Goldoni.
Reservations: phone +39 041 2402019
Call-center Hellovenezia: +39 041 2424.
---
A l'Avogaria Theatre
The "A l'Avogaria" Theatre is probably the smallest in Venice, but even if it owns limited dimensions, it offers a special experience to the audience because of their close proximity to the stage and actors. The theatre was established in 1969 by Giovanni Poli and has hosted many masterpieces of the Commedia dell'Arte, among those "La Finta Ammalata" and "Il Ventaglio" by Carlo Goldoni and the memorable "Augellin Belverde" by Carlo Gozzi. The Compagnia Stabile dell'Avogaria performed many successfull tours in Italy and abroad, and it offers periodically some seminars and courses for actors. The decentralized location (between Calle Lunga San Barnaba and Church of San Sebastiano) offers this small-great Venice theatre as an authentic treasure to discover (Dorsoduro 1617, Corte Zappa).
Website: Teatro a l'Avogaria.
Phone and fax: +39 041 5209270.
---
Fondamenta Nuove Theatre
The Fondamenta Nuove Theatre is located at the end of the long waterfront which gives it its name (Cannaregio 5013). The performances offered range from jazz concerts to rock and electronic music; from theatre for kids to the lyric operas ("La Boheme", "La Traviata", "Tosca") from ballett to La Commedia dell'Arte ("Sior Todero Brontolon"). The theatre, even if it does not have an ancient tradition, has a relevant success due to the good shows offered, getting in this way the love of Venice's audience.
Web site: Teatro Fondamenta Nuove.
Phone and fax: +39 041 5224498.
---
Toniolo Theatre
The Toniolo Theatre is located in Mestre (Piazzetta Cesare Battisti 1, only a few steps from the central Piazza Ferretto) and it is easily reachable from Venice by a 15 minute bus ride (line #7). The theatre was built in 1912 and got the name by its three builders, the Toniolo brothers. After a long and careful restoration that allows 800 seats, the theatre re-opened with Season 2001/2002. The Toniolo Theatre offers every Season three series of events: "Great Music" "Great Theatre" and "Great Dance". The quality shows have made this theatre (with both Centro Culturale Candiani) one of the most important points of the cultural life in Mestre and in Venice.
Web site: Toniolo.
Information: tel. +39 041 2749068
---
San Gallo Theatre
The San Gallo Theatre presents: "Venezia, the Show".
Box office: +39 041 2412002.
---
Teatro Verde - Actually closed
The Teatro Verde is located in Venice at San Giorgio Maggiore Island, called the Green Island indeed. The theatre was built in 1952 by a project of Angelo Scattolin and Luigi Vietti and it has 1600 seats. Its shape in classical style makes it perfect for dramatic comedies. In order to arrive you have to take the public waterbus trasportation line #2 and get off at S. Giorgio stop.
---
OTHER THEATRES IN VENICE
Teatrino Groggia - Venice, Cannaregio, 3161. Telephone +39 041 5244665.
Auditorium Santa Margherita - Venice, Dorsoduro, 3689. Tel. +39 041 2349911, fax +39 041 2349998.
La Biennale Theatre - Venice, S. Marco 1364/a. Tel. +39 899 909090, fax +39 041 5200569.
Della Murata - Via Giordano Bruno, 19 - Venice-Mestre. Tel. +39 041 989879, fax +39 041 980649.
University Theatre G. Poli (Santa Marta) - Venice, Dorsoduro 2137. Tel. and fax +39 041 2348962.
Piccolo Arsenale - Venice, Campo della Tana, Castello. Call center Hellovenezia Phone +39 041 2424.
Alle Tese - Venice, Arsenale, Castello. Call center Hellovenezia Phone +39 041 2424.
Tese delle Vergini - Venice, Arsenale, Castello. Call center Hellovenezia Phone +39 041 2424.
Junghans Theatre - Venice, Giudecca, 494/b. Tel. +39 041 2411974.
Ai Frari Theatre - S. Polo 2464/Q. Contact: +39 041 710487.
PalaGraziussi (ex Oratorio S. Filippo Neri) - Venice, Castello, 5500/c. Phone +39 041 5238786.
---