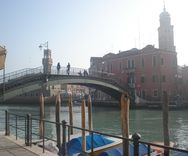 MURANO ISLAND
Murano is an island located approximately 1 kilometer north of Venice. Murano is comprised of five islands and has about 4600 inhabitants. The main activity in Murano island is the production of artistic glass, (Murano is also called "the glass island"). In addition a main component of the island's economy is tourism. Murano has had always a relative independence from Venice, having its autonomous town hall till 1923. The ancient name of the island was Amuranium, which was given to her by the first refugees coming from Altino, in memory of a gate in their original town. In ancient times Murano island had several villas with gardens, palaces, churches and monasteries. Unfortunately many of those buildings have been destroyed. Murano island was at its best during the sixteenth century and had a council called "arengo" and its own "podestą" starting from 1272. The original families of Murano island were entered in a "golden book" which ensured them some privileges. The glass industry was moved from Venice to Murano in 1291 by decree of the Maggior Consiglio for two reasons: to avoid the continuos fires which were happening in the city caused by the furnaces (houses aduring that time were almost all made of wood), and being able to check the production. Manufacturing secrets were jealously handed down from father to son, and the "Serenissima" was forbidding the expatriation to the glazier-masters of Murano island to guarantee to itself the monopoly.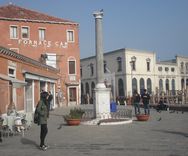 The first vaporetti stop in Murano island is called "Murano Colonna" and owes its name to the granite column, still visible, that in the past beared the statue of Doge Domenico Contarini, particularly loved by Murano inhabitants as he conceded them the prerogative to coin the "oselle". Getting to Murano is easy. From the Piazzale Roma car parking area or from the Venice train station Santa Lucia take the direct line 3 of public waterbus transportation (vaporetti), run by the company Actv, which will allow you to reach the island in a quick 19-minute ride. You can also take line 4.2 (37-minute ride). From the airport Murano island is reached by a 30-minute ride by the lines of the public waterbus run by Alilaguna. From the stop "S. Zaccaria ", near St. Mark's Square, line 4.1 Actv will get you to Murano in 40 minutes. From the stop "Fondamente Nove" take lines 4.1 and 4.2, a 9-minute ride. From Treporti or Punta Sabbioni or Burano it is possible to get to Murano by public waterbus transportation line 12.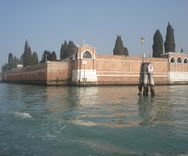 Just before getting to Murano you will see on the right S. Michele Island (winter 7,30am-4pm, summer 7,30am-6pm, free entrance), which has been the Venice cemetery since 1806. Buried in the cemetery are celebrated artists like Sergej Djagilev, Ezra Pound, Igor Stravinskij, Luigi Nono, Josif Brodskij and Ermanno Wolf-Ferrari. In the past there were two separated islands, San Michele and San Cristoforo that were joined in 1837 in order to get enough space for the cemetery. In 1822 S. Michele imprisoned the Italian patriots Silvio Pellico (the author of "Le mie prigioni") and Pietro Maroncelli before getting both imprisoned in Spielberg jail (Austria). Beyond the palisade is the remarkable S. Michele Church, built by architect Mauro Codussi in Renaissance style (1469). The bell tower is Gothic.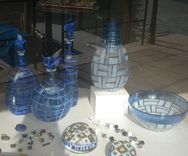 As you get off at Murano island you realize that this place lives around the production of artistic glass. There are in fact many glass shops and factories throughout the island. Some of them offer a demonstration on how small glass animals are produced. Actually, in order to see a demonstration the retailers will charge you 2 or 3 euros.
Inside of biggest factories, some lucky people could see the creation of masterpieces made by a glazier-master. The best part of Murano production takes place during winter because the temperature is cooler. The inside of the furnace is about 1000 C° (538 F°). In its surroundings it's really hot and working is hard. The glazier-master does not have a model in front of him to copy but only his creativity. He removes, by a metal rod, from the furnace a red hot bolus made by glass particles, takes the rod to his mouth and blows through the rod to create the shape he wishes. In order to make it, he uses a spatula and a tool called a "borsella". A helper, called "servente", helps him hold up the weight that sometimes can be considerable. The families Toso, Barovier, Salviati and Seguso (only making mention of some) have contributed, throughout the centuries, with their glazier-masters, to make Murano island celebrated worldwide.
Beyond the "Murano Colonna" stop turn right down into Fondamenta dei Vetrai (the waterfront) along which are located many shops selling artistic glass but even "murrine", necklaces and junk jewelry. At about 50 meters ahead is located the tiny Mall "Isola" with 11 shops inside, open everyday from 8am to 8,30pm along with the Supermarket Despar (Murano - 14, Fondamenta dei Vetrai, phone +39 041 739828). If you are looking to buy Murano glass I suggest you to check out the prices in different shops as the cost for a similar object could vary quite a bit. Moreover it's necessary ask the shopkeepers that the object we are going to buy has the trademark "Vetro Artistico di Murano". This is to avoid buying a product maybe cheaper but probably made in China (it's not a good bargain!).
Murano island's Restaurants
"Ristorante Busa della Torre" - Piazza Santo Stefano 3, phone +39 041 739662.
"Ristorante ai Frati" - Murano, Fondamenta Venier 4, tel. +39 041 736694.
"Ristorante ai Pianta Leoni" - Rivalonga 25, telephone +39 041 736794.
"Trattoria ai Vetrai" - Murano, Fondamenta Daniele Manin, phone +39 041 739293.
"Trattoria al Corallo" - Fdm. dei Vetrai, tel. +39 041 739080.
"Osteria al Duomo" - Murano, Fdm. Maschio 20, phone +39 041 5274303.
"Ristorante alla Vecchia Fornace" - Fdm. dei Vetrai 35/A, telephone +39 041 5274244.
"Antica Trattoria Muranese" - Rivalonga 20, tel. +39 041 739610.
"Taverna da Tanduo" - Murano, Fdm. Manin, phone +39 041 739310.
"B Restaurant alla Vecchia Pescheria" - Murano, Campiello Pescheria 4, tel. +39 041 5274957.
"Pizzeria Marlin" - Fdm. dei Vetrai 53, tel. +39 041 739131.
"Trattoria Serenella" - Sacca Serenella 5, telefono +39 041 739560.
"Trattoria Valmarana" - Fdm. Navagero 31, tel. +39 041 739313.
After having walked along the Fondamenta dei Vetrai with its many shops (in winter closed at 4,30pm, while in summer closed at 7pm), you arrive at the Church of St. Peter Martyr built in the fifteenth century, (free admittance, opening hours: 9am-12am and 3pm-6pm, phone +39 041 739704), which contains remarkable paintings by Giovanni Bellini, ("Assunta and Saints", "Virgin in Throne among Angels and Saints"), and Paolo Veronese ("Saint Girolamo in the Desert", "Sant'Agata visited in Prison by S. Peter and an Angel").
Then you get to Murano Grand Canal, crossed by Vivarini Bridge (1866) also called "Long Bridge". This is the widest canal and divides the island in two parts. Passing over the bridge turn right down along Rivalonga waterfront. Near the vaporetto stop, (about 50 metres before), is located a supermarket Coop (open mon.-sat., 8am-7,30pm). Then you get to Fondamenta Marco Giustinian.



Here, inside of Giustinian Palace, is the Murano Glass Museum. In the past the palace was the seat of Torcello bishops from 1659 to 1805. Since 1861 the palace became the seat of Museo Vetrario by order of abbot Vincenzo Zanetti. The School of Glass in Murano island is named after him, and offers interesting visits and courses for children. The collection includes over 4.000 handcraft objects from the past to present.


Finally you arrive in San Donato Square where you'll find the remarkable Santa Maria and Donato Church, (Murano island's cathedral, +39 041 739056, open 9am-12am, 4pm-6pm, free admittance). The original building is dated back to the seventh century, but the actual date is from 999. The name of the church was dedicated in the beginning to Santa Maria, then has been added that of San Donato in 1125, when the body of the saint had been moved from Cefalonia. Inside of the church, the most important church on the island, is a beautiful floor made by mosaics (1140) and some beautiful paintings. Unique in its kind in the Lagoon is the external apse in Veneto-Byzantine style of twelfth century (visible from the square or, even better, from the big stone bridge of San Donato). The bell tower was built in the same age. In order to get back to Venice you can take the vaporetto from stops "Murano Museo" or "Murano Navagero". If you wish to go to Burano, you have to take the vaporetti public transportation line LN, run by Actv from stop "Murano Faro". The police (carabinieri) has a permanent seat in Venier waterfront, just over the "Long Bridge", and following phone number: +30 041 739047.
Besides the long Fondamenta Venier, and close to the homonymous vaporetto stop, is located another important church of Murano island: Santa Maria degli Angeli . It was founded in the twelfth century with the famous monastery nearby, but was rebuilt in the sixteenth century. Inside there are some beautiful paintings, including the "Madonna and Saints in Glory" by Jacopo Palma il Giovane. In ancient times this church of Murano contained many more works of art, some of them were transferred to the church of S. Peter Martyr in 1813. In this sacred and lonely place of Murano island were buried some celebrities of the "Serenissima", including the Doge Sebastiano Venier. He was the leader of the army that defeated the Turks in the naval battle of Lepanto (in 1571). Currently, his ashes are kept in the Basilica of SS. Giovanni e Paolo.
---