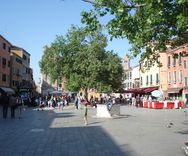 CAMPO SANTA MARGHERITA
Campo Santa Margherita is located in Venice, just in the center of the district of Dorso Duro and is one of the liveliest corners of the city. In Campo Santa Margherita are concentrated many clubs that are frequented both in winter and in the summer thanks to the tables placed outside bars, pubs, restaurants and pizzerias. In Campo Santa Margherita you can still see the Venetians intent on their daily lives, but also watch the children playing in the afternoon and on Sundays. Campo Santa Margherita is one of the larger open places in Venice after St. Mark's Square and Campo S. Polo. This square is celebrated for its night life. Here is consumed spritz (a local drink) during happy hour and beyond. For this reason Campo Santa Margherita, (along with Campo S. Giacometto at Rialto), is the favorite place in Venice for young people but also for many tourists that enjoy the friendly atmosphere of this square.
The square is named after the ancient Church of Santa Margherita, founded in the ninth century and dedicated to that martyr. It was rebuilt in 1687 by architect Giambattista Lambranzi. The Church of Santa Margherita was abolished in 1810 because of the Napoleonic reforms and was used for a period as a cigarette factory and then as a store of marbles. It became evangelical church in 1882 and later became a cinema, known as Cinema S. Margherita or in Venetian dialect "Cine Vecio", to distinguish it from "Cine Novo", once located where now is the Supermarket Punto. Actually it is an auditorium (+39 041 2349911) owned by the University of Ca' Foscari. Incorporated into the building you can see the typical belltower so truncated in 1808. At its base are located some interesting marble fragments of the seventeenth century, among these are visible a dragon and a sea monster.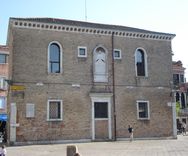 At the center of the square is located an isolated building, the Scuola dei Varoteri (which was the seat of the tanners since 1725). On the facade you see a beautiful tabernacle, "The Virgin adored by brother on her knees", (1501). Near it is open in the morning (from Tuesday to Saturday) the fish market of Campo Santa Margherita. In front of it are some notable houses dating from the Gothic period. At the end of Campo Santa Margherita is situated the Church of Santa Maria del Carmelo also called "dei Carmini", which was built in 1286 but retains some nice outside paterae in Venetian-Byzantine style. Inside you can see a cycle of 24 paintings (12 per side) called "Episodes of the Carmelite Order". Next to the church is the Scuola di Santa Maria del Carmine (opening hours: 11 am to 4 pm, admission € 5.00, tel. +39 041 5289420) that was built in a Classical style designed by Longhena between 1668 and 1670. Inside the Scuola there are some beautiful series of paintings made by Giambattista Tiepolo.
Bars in Campo Santa Margherita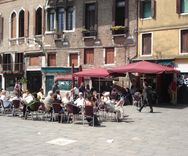 "Margaret DuChamp". Campo Santa Margherita, Dorso Duro 3029, Venice. Opening hours: 9am-1,30am, on Saturdays it opens at 5pm. Phone +39 041 5286255.
"Il Caffè". Campo Santa Margherita, Dorsoduro 2963. Opening hours: 7am-1am. Closed on Sundays. Ph. +39 041 5287998.
"Orange". Dorso Duro 3054. With courtyard. It opens 10am-2am all week. Phone +39 041 5234740.
"Salus". Between Campo Santa Margherita and Rio Terà dei Pugni. It opens from 7,30am to midnight all week. Ph. +39 041 5285279.
"Osteria alla Bifora". Campo Santa Margherita 2930. Open every day 12am-3pm and 6pm-2am. Telephone +39 041 5236119.
"Chet Bar". Dorso Duro 3684. Orario 8am-1am, closed on Sundays. Info: +39 328 8729967.
"Madigans' Pub". Dorsoduro 3053/A in Campo Santa Margherita. Opening hours: every day from 8am to 2am. Phone. +39 340 9091953.
"Bar Rosso". Campo Santa Margherita 3665. It opens 8am-1am all week. No phone.
How to get to Campo Santa Margherita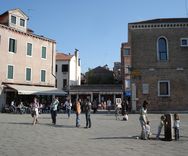 In order to get to Campo Santa Margherita from Piazzale Roma car parking, just walk along the waterfront of Rio Novo towards Accademia (about 8-minute walk). To get from Santa Lucia train station just go out, turn right and cross the Bridge of the Constitution, then follows as above. The closest vaporetto stops to Campo Santa Margherita are "Ca' Rezzonico" (line 1), "Piazzale Roma" (lines 1-2-4.1-4.2-5.1-5.2) and "S. Basilio" (line 6). Would you like to arrive to Santa Margherita from St. Mark's Square? It's easy, just follow the signs to Accademia and then to Piazzale Roma (30-minute walk). From Rialto to reach on foot Santa Margarita you have to follow this direction: S. Polo, Frari, Accademia. In Campo Santa Margherita is located the supermarket "Punto" which is open Monday through Saturday from 8.30am to 8.00pm, ph. +39 041 5289494. On Tuesdays and Saturday in the square opens a florist from 8am to 1pm. In this square is held the quaint market of Campo Santa Margherita.
---